Euro zone economy hits wall of worry, deflation concern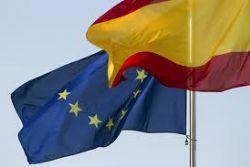 A wall of consumer and business angst is standing in the way of euro zone economic recovery and there are renewed signs of deflation in the bloc's biggest countries to worry the ECB.
Data from across the 19-member currency bloc on Friday will put pressure on the ECB to take strong additional policy actions at its meeting in March on top of the unprecedented stimulus it is already giving.
Reports of falling prices in Germany, France and Spain along with an array of weak sentiment surveys for the bloc as a whole will also provide ammunition to those arguing that governments must now loosen their budgets to stimulate growth.
The data contrasted with some recent, tentative signs of revival and boosts from cheap energy and a competitive euro.
"The euro zone currently resembles a 50-year-old overweight smoker: there are a lot of downside risks, but the base case for the short term remains fairly decent," said Bert Colijn, economist at ING.
Even this modest confidence does not appear to be shared by businesses and consumers.
The European Commission reported that overall euro zone economic sentiment deteriorated by far more than expected in February, falling to 103.8 in February, just above the long-term average, from a slightly upwardly revised 105.1 in January.
Business sentiment - not numerically comparable - came in at 0.07 from 0.29 in January, below even the most bearish projection in a Reuters poll and barely in positive territory.
The consumer confidence index, meanwhile, dropped to -8.8 from -6.3 in January, down from -5.7 in December - a poor harbinger for future spending, last year's bright spot.
Sarah Hewin, chief economist at Standard Chartered, said some of the decline may have come from a belief that improvements to growth and employment may be waning.
But she also cited falling stock markets and broader concerns about how the European Union manages the hundreds of thousands of migrants and refugees entering its borders.
PRICE GUIDANCE
The biggest blow from Friday's euro zone data may have been to the ECB, which is already buying assets to the tune of EU60 Bln a month and effectively charging banks to deposit money.
Both are attempts to push money out into the economy to boost inflation, which it wants at just below 2 percent. But inflation, dragged down in part by falling oil and commodity prices, is not playing ball.
"We now expect euro area headline ... inflation to decline to -0.1% in February," Barclays said, referring to a bloc-wide release on Monday.
Germany data set the tone on Friday, showing prices falling 0.2% year-on-year, having been up by 0.4% in January. Spain was deep in deflation with prices down 0.9% year-on-year.
In France they were down 0.1% and Italy reported flat month-on-month wage inflation.
It all points to more action from the ECB on March 10, particularly as markets appear to have given up any hope of near-term inflation.
Euro zone long-term inflation expectations - as measured by the five-year euro zone breakeven forward - are at record lows below 1.4%.
Recommended Reading :
* Robust spending gives momentum to Spain's recovery
* Spain mortgage loans rise at fastest rate on record in 2015