Murcia' San Javier Airport numbers down for 8th consecutive year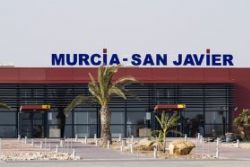 Spain's encouraging Airport passenger numbers for the year 2015 were not reciprocated to Murcia's San Javier airport, according to recent reports.
Figures released last week revealed how passenger number at San Javier fell 2.5% during 2015, which contrasts with the 5.9% increase seen by other Airports in the AENA network across Spain collectively.
Similarly, Alicante Airport saw an increase of 5.10%.
The number of passengers arriving at Murcia's San Javier Airport in 2015 were almost half of the number registered in 2007, when the Airport registered a record high.
2015's figures saw an 8th consecutive year of falling passenger numbers.
With the region struggling to bring the new Corvera Airport into operation, and neighboring Alicante airport is seemingly going from strength to strength, many airlines have ceased operating routes to the facility over recent years.
But will these same Airlines return to Murcia if and when San Javier Airport should close in favour of Corvera opening ?
Recommended Reading :
* Further investment in Murcia's San Javier Airport
* Jet2 drops San Javier Murcia to Edinburgh route