BA Flight from Spain declares emergency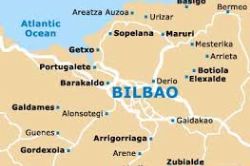 British Airways Flight BA469 has made an emergency landing in Bordeaux after declaring an emergency during a flight from the Spanish city of Bilbao to London.
The aircraft, an Airbus A320-232, departed from Bilbao Airport in northern Spain at 10:44 p.m. local time for a 1.5 hour flight to London's Heathrow Airport. The aircraft declared an emergency as it flew over the Bay of Biscay and chose to divert to Bordeaux Merignac Airport in France, where it landed at 11:30 p.m.
A British Airways spokesman described the emergency as a "technical issue," but provided no specific details. "Engineers will carry out an examination of the aircraft as a precaution. Safety is always our number one priority," the spokesman said in an email.
"We are very sorry for the delay to our customers' travel plans. Our cabin crew are doing all they can to look after our customers following the diversion," the spokesman added.
It is unclear how many people are on board, but an Airbus A320 is capable of carrying approximately 150 to 195 passengers, depending on the configuration.
Recommended Reading :
* Spanish Airport operator profit beats forecast
* Spanish Airport share price up 65%