PSOE Leader Gets Party Backing for Pacts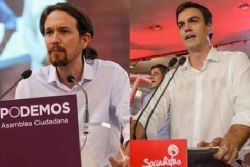 Spanish Socialist leader Pedro Sanchez got the support of a majority of party members for his policy of seeking political pacts, clearing the way for him to put his name forward to try to form a new coalition government in a parliamentary session next week.
With 97% of the votes from Socialist party members tallied, about 79% had voted to back his policy of seeking pacts with other parties, principally the liberal Ciudadanos party, according to a statement on the official Socialist party Twitter account. The party's federal committee will meet on Feb. 29 to confirm or reject the vote result. More than 90,000 members took part in the vote, turnout of about 52%.
Sanchez is seeking allies to oust acting PM Mariano Rajoy's People's Party, which is still governing ten weeks after general elections failed to produce a clear winner. Should the country's parliament fail to pick a PM by May 2, Spain will hold new elections, most probably on June 26.
While Socialists and Ciudadanos still have only 130 lawmakers in Spain's 350-seat parliament, Sanchez and Rivera bet that their willingness to cut a deal will boost support among voters and ultimately persuade one of the other parties to join their alliance, even if they fail to win the confidence vote next week.
Recommended Reading :
* Ciudadanos and PSOE sign deal hoping to win cross-party support
* PSOE negotiating deal with Podemos and Ciudadanos simultaneously