Eroski sell 36 Stores and Malls to Carrefour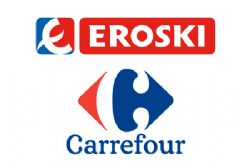 Spanish supermarket chain Eroski has today announced the sale of 36 of its hypermarket stores across the country to French rivals Carrefour.
The deal, reported to be worth around €200 million, includes 8 shopping malls and 22 adjacent petrol stations adding 27 new cities to Carrefour's expanding retail portfolio.
Eroski shopping malls reportedly in the deal include Centro Comercial ÁGUILAS PLAZA, Centro Comercial San Diego (Lorca) and Centro Comerical Parque Almenara (Lorca) in Murcia as well as C.C. Portal de la Marina Denia, and C.C. Portal de la Marina Ondarra as well as several other locations.
Eroski, originally from the Basque Country, embarked on an ambitous expansion focusing on shopping malls across the country. However, since the financial crash of 2008 Eroski has struggled to optimise its profits.
Several major Eroski shopping malls, most notably, Parque Almenara Lorca and Aguias Plaza have struggled to attract retailers leaving many vacant retail units boarded up for years. Aguilas Plaza in particular is virtually a ghost shopping mall.
A spokesperson for Eroski said the deal meant Eroski could focus more on its recovery and expansion plans for their own supermarket retail network as well as accelerating the franchise arm of the business.
The acquisition by Carrefour does have terms and conditions attached, although these have not yet been released and is subject to anti-trust approval by the CNMC - Comisión Nacional de los Mercados y La Competencia, Spain's equivalent of the Competition and Markets Authority in the UK.
Recommended Reading :
* Lidl opens 6 stores in Spain this week
* Spain's fragmented Supermarkets squeezed towards mergers