Last year saw Spainís biggest capital flight since 2012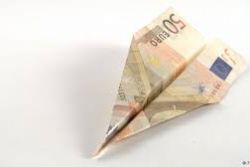 Investors took Ä70.2 billion out of Spain in 2015, according to new balance of payment figures published on Monday by the Bank of Spain.
The amount lies in stark contrast to the Ä5.6 billion investors put into the country in 2014 Ė in December 2015 alone, the month in which the general election was held, Ä19 billion was taken out.
Nevertheless, the figures are a long way from the record set in 2012 when Ä170 billion was withdrawn from Spain.
The balance of payments is the result of looking at what Spaniards invest in outside of the country and what foreigners send to Spain over the same time period.
A number of legal firms have confirmed that owners of large fortunes have begun taking their capital out of Spain because of increasing uncertainty in the country following the inconclusive December general election, which has so far failed to produce a new government, as well as the risk of rising taxes.
The recent governing agreement signed between the Socialists and Ciudadanos includes a new tax on major fortunes and left-wing party Podemos has also included plans to increase levies on large sums.
The Ä70.2 billion taken out last year is the result of the withdrawal of Ä21.3 billion in direct investment and Ä48.8 billion taken out of the country in the form of other investments, such as loans, repos and deposits.
Investors also withdrew Ä700 million in portfolio investments last year. In the area of financial derivatives alone there was an increase of Ä600 million.
Recommended Reading :
* Euro Zone economy hits wall of worry, deflation concerns
* Spain Mortgage loans rise at fastest rate on record