Wind helps Spain reach 54.6% renewables share in February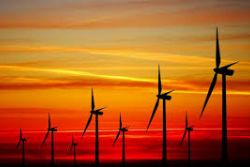 Despite the standstill in new capacity additions, wind power generation in Spain hit a new daily high of 367.64 GWh on February 12 and accounted for 30.2% of the country's total power for the month.
Power demand in peninsular Spain for February stood at 20,516 GWh, up by 0.5% on the year. Wind farms in Spain produced 6,091 GWh, up by 2.4% year-on-year and helped reach a total renewable energy share of 54.6% for the month.
Grid operator Red Electrica de Espana (REE) said, citing provisional data to February 29, that Spain has sourced total of 74.2% of its power from zero-carbon plants last month.
Spain did not install a single megawatt of wind power capacity in 2015, which has not happened since the 1980's, the Spanish Wind Energy Association (AEE) said in January. At the end of last year, the country had 22,988 MW of wind power generation capacity, which generated 47.7 TWh to cover 19.4% of power demand.
Recommended Reading :
* Renewables cover 19.5% of demand in Spain's Andalusia
* Spain installed NO wind power for 1st time since 80s in 2015