PP, Podemos will seek new talks with Socialists if tomorrow's vote fails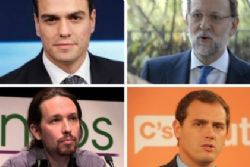 The conservative Popular Party (PP) and emerging anti-austerity group Podemos plan on contacting the Socialist Party (PSOE) on Saturday in a bid to restart negotiations to form a government, should, as is expected, Socialist chief and prime ministerial hopeful Pedro Sánchez fails tomorrow at a second investiture vote.
If he loses again at tomorrow's vote, at which a simple majority – more yes votes than no – would see him made prime minister, the parties will have two months to reach a new deal. If they fail, new elections will have to be held, most likely in June.
In the case of the PP, acting PM Mariano Rajoy will get in touch with Sánchez after tomorrow's vote, in a bid to try to secure, in the words of PP general secretary María Dolores de Cospedal, a stable government for Spain. She explained in a TV interview on Thursday that Rajoy would seek to convince Sánchez that the best course of action was a "grand coalition" between the PP, the Socialist Party and Ciudadanos.
The Popular Party won the most seats at the inconclusive general election, but fell well short of a majority. Despite being invited by the king to form a government, Rajoy declined, on the basis that he would not have the votes in Congress to win the investiture vote.
Meanwhile, the leader of Ciudadanos, Albert Rivera, is well aware that his deal with the Socialists will come to nothing at tomorrow's vote if the PP does not abstain. But on Thursday it emerged that Ciudadanos was not holding fresh talks with the PP ahead of tomorrow's vote. Rajoy is reported to have refused to receive Rivera last week, given that he knew that he was going to request his party's abstention to make way for a Sánchez-led government – something he is unwilling to do.
"I do not agree with Rajoy's way of leadership, if he is leading at all," Rivera said in a radio interview after Wednesday's debate. "He has broken all bridges. […] Rajoy has said no to everyone. They are isolating themselves. When [Rajoy] refused [the king's invitation to form a government], he signed his own death sentence. After that you can't complain if others try to do so. We can't head toward a new era with a passive attitude."
The organization secretary of Podemos, Sergio Pascual, believes that dialogue between his party and the PSOE is still possible, despite the "severity" of the verbal attacks during Wednesday's debate by leader Pablo Iglesias. Pascual called for talks to begin as soon as possible on Saturday, should Sánchez lose the second vote.
Pascual argued that in order to offer solutions to Spanish voters, the main left-wing forces – PSOE, Podemos, United Left and Compromís – should sit down at the negotiating table together. They have between them a total of 161 seats in Congress – closer to the "169 that [former Prime Minister José Luis Rodríguez] Zapatero had [in 2008, when the Socialists won in the second round of voting], than the 130 that yesterday were voted down," he said, in reference to the 130 PSOE and Ciudadanos deputies who lost their vote on Wednesday.
Recommended Reading :
* Sanchez suffers harsh attacks from PP, Podemos during investiture debate
* PSOE leader appeal for support ahead of investiture debate