Spaniards among biggest supporters of development aid in the EU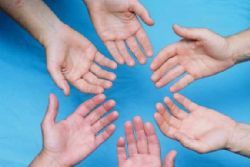 Spaniards are among the EU's biggest supporters of development aid, with 93% saying it is "important" to help people in poorer nations, according to a Eurobarometer survey published this week.
The results of the survey, which was carried out in 2015, reflect that, along with Germany and Portugal, Spain has the highest levels of support within the EU for development aid over the last six years (four points up on 2014), matched by a 16% increase in the number of people saying that their governments should increase spending.
Almost eight out of 10 Spaniards (78%) say fighting poverty should be one of the EU's priorities, compared to an EU average of 69%, according to Eurobarometer.
That figure falls to 63% when it comes to the number of Spaniards who believe their own government should make development aid a priority, but is still higher than the EU average.
The Eurobarometer survey shows that 26% of Spaniards are in favor of increasing development aid budgets, the highest in the EU after Romania, and well above the EU average of 16%.
Overall, 73% of EU citizens say that development aid is an effective way of tackling illegal immigration, while 80% say that such aid also helps the EU itself.
"The results clearly show that EU citizens know about and value the importance of the EU's international cooperation and development," said the European Commission's foreign development chief Neven Mimica on Monday.
The EU commissioner called on European countries to "seize this opportunity" of popular support for development aid, which would "make sure that we show the results of what we do, the impact it has on the ground, the difference it makes to the lives of people and how it benefits Europe's values and interests."
Almost one in five Spaniards surveyed (24%) said that the public can and should play a role in the fight against poverty in developing countries, while almost 64% agreed with this "to a certain degree."
Spaniards under the age of 24 showed a more positive attitude than older people regarding the importance of development aid, particularly when asked if more money should be set aside for international cooperation (41% and 24% respectively). Equally, 81% of under-24s and 62% of people over that age said the public should play a direct role in helping their governments and NGOs tackle poverty.
In the case of Spain, the Eurobarometer survey showed that 42% of people believed that health was the biggest issue for developing countries, followed by peace and security (36%).
Recommended Reading :
* The 20 richest Spaniards hold as much wealth as the poorest 30% : Oxfam
* Child poverty grows in Spain despite economic rebound