Spain Seizes 20,000 Uniforms Meant for ISIS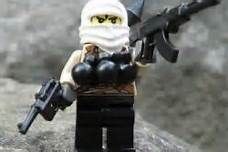 Spain's Interior Ministry has announced the seizure of 20,000 military-style uniforms being sent to fighters from the Islamic State group and the Nusra Front.
The ministry says that police conducted a counterterrorism operation last month in the port cities of Valencia and Algeciras, where officers opened three shipping containers. Authorities found the uniforms and other military accessories.
A ministry statement released Thursday said that police arrested seven people on suspicion of providing logistical and financial support to IS and the Nusra Front, al-Qaida's branch in Syria.
The police operation "neutralized a very active and efficient business network whose primary purpose was to supply, maintain and strengthen" IS, according to the statement. The uniforms were declared as "secondhand clothing" in a bid to avoid raising suspicion while passing through customs.
Recommended Reading :
* Spain arrests four with suspected links to ISIL