Spain's acting PM to renew push for coalition with Socialists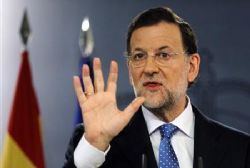 Spanish acting PM Mariano Rajoy on Saturday renewed his push for a coalition between his People's Party (PP) and the Socialists after their leader Pedro Sanchez failed to win the backing of parliament to form a government.
Sanchez lost his second investiture vote for a government including market-friendly Ciudadanos (Citizens) on Friday, most likely setting the country on course for its second election in six months.
The PP, anti-austerity upstart Podemos and five smaller parties voted against Sanchez, scuppering his pact with Ciudadanos. A small party from the Canary Islands also voted for Sanchez.
Spain's parties have been in negotiations to form a government since a December vote when Spaniards weary of austerity and corruption deserted the two traditional parties to vote for newcomers Podemos and Ciudadanos.
Businesses and investors have so far remained calm about the deadlock, but new elections would raise the risk that Spain's economic growth, one of the highest rates in the EU, might be affected by the political impasse.
Podemos has sworn to vote against any coalition which includes Rajoy's PP party and Sanchez has said repeatedly he would not support any pact which would allow Rajoy to return to power.
On Saturday, Rajoy, in a speech before supporters, scolded Sanchez for wasting time on a coalition which lacked enough seats to win the necessary support and called on the Socialist leader to join the PP for a new government or stand aside.
"This coalition would respect the will of the people. The first and the second (parties) plus, if we like, the fourth. Our offer is still there, and if you don't like it, let the party which won govern," Rajoy said.
The PP won the most votes in December, followed by the Socialists, Podemos then Ciudadanos. Under Spanish law, the parliament has to vote to approve the formation of a government, but this becomes problematic if no single party, or group of parties, has enough support.
The Socialists and Ciudadanos will hold joint talks with the other parties starting on Monday, a Socialist parliamentary spokesman said on Saturday, in a last ditch effort to form a winning coalition.
Parties have until May 2 to produce an alternative majority. Failure will lead to the dissolution of parliament and Spaniards would have to return to the ballot box, most likely on June 26. Analysts say such an outcome is looking increasingly certain.
Recommended Reading :
* Spain : 2 More months of uncertainty as PSOE lose 2nd vote
* PP, Podemos will seek new talks with Socialists if tomorrow's vote fails