Spain Confirms 38 Cases of Zika Virus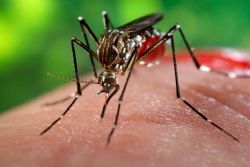 Spain reported today 38 diagnosed cases of Zika virus, including five pregnant women, according to Ministry of Health, Social Services and Equality. Of the total number of cases, all of them imported, nine were registered in the autonomous community of Catalonia; 13 in Madrid, six in Castile-Leon, two in Aragon and Asturias and one case in Andalusia, Murcia, Valencia, Navarra, La Rioja and Galicia, respectively.
The health department confirmed this information on its website once the National Center of Microbiology, Institute of Health Carlos III, corroborated the presence of the virus in the patients studied.
All diagnosed cases in Spain are people who traveled to areas affected by the disease, the source said.
Spain approved last month a monitoring protocol following the Zika virus outbreak and a plan to respond to other diseases transmitted by the Aedes aegypti mosquito, which vector of dengue and chikungunya.
Recommended Reading :
* Zika virus : What travellers need to know
* Spain confirms 27 cases of Zika