Madrid to give over part of city cemetery to Muslim community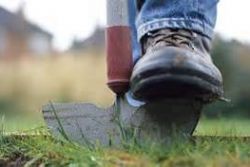 Madrid's Carabanchel Alto cemetery will be the first graveyard in the city to allow Muslims to bury their loved ones following their own religious rites.
City Hall, headed by Mayor Manuela Carmena, will turn over 9,500 square meters of cemetery space for Muslim burials, municipal sources have told EL PAÍS.
The decision follows months of negotiations between the city's ruling leftist Ahora Madrid alliance and Muslim leaders. The cemetery is the second largest in the Spanish capital.
The problem lies in the fact that Muslims are asking for the right to bury their dead in direct contact with the earth, a practice that is forbidden by public health legislation.
The city will try to negotiate the matter with regional officials. The regional government of Cristina Cifuentes, of the conservative Popular Party (PP), has said that it is analyzing the issue and has ordered technical reports.
City Hall sources said the transfer of previously Catholic burial land to the Muslim community will probably take place by the end of the year, when the company in charge of funeral services, EMSF, reverts to the city. Right now, 51% of the company's shares are controlled by the private group Funespaña.
While Muslims bury their dead in white cloths, facing Mecca and in direct contact with the earth, a 1997 law stipulates that burials must be made in coffins and follow certain regulations to avoid the risk of epidemics or groundwater contamination.
There are around 200,000 Muslims living in Madrid, and their representatives have been asking for burial space for years.
Tatary Bakry and Helal-Jamal Abboshi, president and secretary general of the Union of Islamic Communities, say that regulations have already been changed in Andalusia, which is home to eight of the 24 existing Muslim cemeteries in Spain.
Elsewhere, a middle-of-the-road solution has been reached by which bodies are interred inside coffins containing clods of earth – or else a hole is made in a casket to create this contact.
"With a view to respecting diversity, there will be 9,500 square meters reserved [for Muslim burials] when the cemetery becomes publicly managed," said a city spokeswoman. "The change will observe existing regulations or make the necessary changes to the latter. We are in touch with the Madrid regional government to analyze possible modifications."
Until now, the Madrid region only had one Muslim cemetery in Griñón, and for many years it functioned independently, allowing direct burials for a price of €50 to €100. But when the graveyard came under municipal control in 2014, public health laws went into effect and rates were raised to €1,960.
A year ago, a Madrid health department spokesman said that there would be no Andalusian-like reform of public health laws in the region – at least not until national legislation changes, too.
Recommended Reading :
* Moroccans largest victims of Islamophobia in Spain
* Muslim demand right of return to Spain