Aldi To Open New Outlets In Spain This Month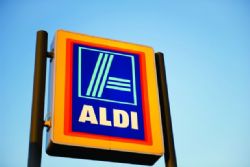 German discount supermarket chain Aldi has announced the opening of a number of new stores in Spain this month.
Some of these are the reopening of refitted stores, which have been changed with the goal of improving services and customer experience.
As part of the regeneration and expansion plan Aldi's been undertaking in Spain, on March 17, the company will reopen the doors of its Cortes Valencianas Boulevard in Torrevieja to the public.
In the same province, on March 22, the chain will launch a new 1,200 square metre supermarket in Alicante city.
With this opening, Aldi brings the number of its stores in Alicante to 32. Its market share in the region at the end of 2015 reached 4.9 per cent, placing itself ahead of Lidl, which reached a very close 4.8 per cent.
In Valencia, Aldi will also launch a new outlet in the city, which will be its 17th in the province.
These new stores will put Aldi in the Top 10 list of the most influential distributors in Valencia, bringing it from 11th place to 8th.
Recommended Reading :
* Eroski sells 36 stores and malls to Carrefour
* Lidl opens 6 stores in Spain