Four years for policeman who issued phony fines out of spite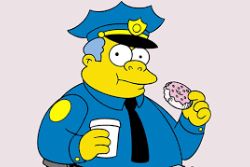 A Barcelona court has sentenced a municipal policeman to four-and-a-half years in prison for falsely fining a female driver after flirting with her and later discovering she had a boyfriend.
David R. was found guilty of forging official documents and told to pay his victim Ä4,500 in damages. All four notices against the driver have been canceled.
The Provincial Court of Barcelona found that the police officer initially met the driver on November 21, 2012 at a road check in which she tested positive for alcohol. But the officer let her go without filing a report, explaining that the reading could be mistaken because of the testís error margin.
The officer and the 27-year-old woman chatted for a few minutes and exchanged telephone numbers. Later they sent each other WhatsApp messages and decided to meet for coffee at a shopping center.
The court ruling found that, according to these WhatsApp messages, the municipal officer warned the victim that he had seen her Facebook profile and discovered that she had a steady boyfriend. He was angry that she had agreed to meet him despite her existing relationship with another man.
A few months later, the policeman filed four reports against the woman, accusing her of road violations in places where she had never been. The victim appealed all the fines, and her claims were upheld in 2014 because the officer was unable to provide proof of the violations. The woman also filed a criminal complaint against the officer at this time.
Recommended Reading :
* Spain's fear over corruption up 8 points
* " Spain is not corrupt " : Rajoy