Spain's political stalemate shows signs of stifling recovery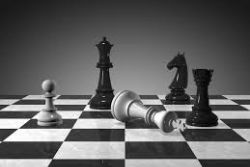 The political stalemate in Spain is starting to chip away at its economic revival, raising the chances of a slowdown the country can ill afford if bickering between political leaders drags on.
The souring mood of consumers, who underpinned Spain's bounce back from recession as jobs returned, is just one of the symptoms worrying businesses as parties on the right and left struggle to agree on forming a coalition.
Even bars have noticed a blip.
"Regulars who used to come every week and have five or six beers are not coming as often, and only having one or two when they do," said Ricardo Gil, who sells craft beer in Madrid's well-heeled Chamberi district.
His earnings in February and March had been much worse than he had expected after a buoyant January.
The impasse that followed an inconclusive national election in December is now nearly three months old.
A Socialist-led pact failed to win support in parliament and rivals, including the conservative People's Party (PP) which won the most votes in the election, are struggling to find allies after all the parties fell short of a majority.
Economists say the extent of the drag on Spain's output is as hard to read as the next twists and turns in the political saga, which looks likely to culminate in new elections in June.
The stakes are high. Spain suffered an economic crisis between 2008 and 2013, dropping in and out of recession before recovery took hold. Huge numbers of people lost their jobs and big cuts were made in public spending.
The crisis helped to change the traditional political dynamic, with voters turning to new parties - the anti-austerity Podemos (We Can) and business-friendly Ciudadanos (Citizens).
Unemployment is falling but is still running at more than 20 percent, and sustaining the recovery will be key to keeping the deficit in check. By the second quarter, signs that households and investors are more hesitant might become clearer.
"The information we've been getting from our branches since December is that clients are being a little more cautious when it comes to buying a car or a home," Angel Ron, chairman of mid-sized Banco Popular, told Reuters.
Federico Vazquez, whose small construction firm specialises in developing airport shops, said none of the public or private 1 million-euro plus (£774,030) projects on his radar have been awarded in the last two to three months.
"People have drawn up investment plans but no-one seems to be signing off on anything big," Vazquez said.
BBVA researchers predict the uncertainty could knock up to 0.5 percentage points off their forecast growth rate of 2.7% for 2016. Spain's economy expanded by 3.2% in 2015, its fastest pace in eight years.
JOBS IN THE SPOTLIGHT
The impact from aborted investments on jobs is hard to measure and largely anecdotal for now.
Gil, the bar manager, had planned to open a BeerShooter franchise in Madrid every six months after launching his first one last June. But he is holding fire until a government is formed and he has more clarity on issues such as tax.
"I'm not overly concerned about the political leanings it might have," Gil said. "I do need to know what the rules are."
Vazquez's Aeropuertos Obra Civil S.A. may be able to offset any slowdown at home with contracts from overseas. Others may be less fortunate as the standstill trickles down to suppliers.
Alejandro Tato, who rents out cement mixers, drills and other machinery to builders, has already seen what the handover period between governments can do to business.
He usually relies on a construction company that works with Madrid's city council, but says their pipeline of projects has dried up since local elections last May, when a Podemos-backed leftist candidate ended 24 years of PP rule.
He let one of his employee's go last month as his February revenues fell nearly 40 percent year-on-year.
The pace of job creation eased in February to 3.0% year-on-year from 3.2% in January, Labour Ministry data showed, though economists pointed to a slowdown in agriculture at the end of the olive harvest.
Recommended Reading :
* Spain kept debt below 100% of GDP as economy grew in 2015
* Spanish economy grew 3.2% in 2015