Spain plans crackdown on regions to shrink deficit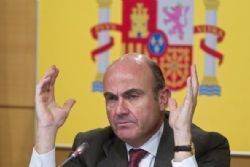 Spain's acting government aims to enforce stricter controls over regional financing as it seeks to convince Brussels it can keep the country's budget deficit in check, Economy Minister Luis de Guindos said in an interview published on Sunday.
Spain, which has yet to form a new government after an inconclusive election on Dec. 20, has been warned several times by the European Commission that it needs to do more to cut its deficit this year.
The Commission deemed that a 2016 budget plan passed before the election by the centre-right Partido Popular was based on overly optimistic growth forecasts and needed to be revised.
Under EU rules, Madrid has to bring its headline budget deficit below the EU threshold of 3.0% of GDP, cutting it to 2.8% from a goal of 4.2% for 2015.
Luis de Guindos said in an interview with the ABC newspaper that overspending by Spain's 17 autonomous regions was the main risk to the country's overall deficit targets.
The regions were already likely to have overshot their own goals by a wide margin in 2015, he said.
"In the stability programme that we have to send to Brussels by the end of April, the government will include a series of measures to correct that deviation," De Guindos said.
Spain is already likely to have missed the 4.2% goal.
Asked if Spain would seek more time from Brussels to meet its 2016 deficit goal, as advocated by rival parties including the Socialists, De Guindos only said: "What is important now is that our plan to reduce the deficit at a regional level should be seen as credible."
Madrid has tools to fine regions if they miss deficit targets, though it has shied away from using sanctions. It could also impose stricter conditions on the funding it hands out to local governments.
Parties on the right and left in Spain are still struggling to form a viable coalition after all fell short of a majority in the wake of an uneven recovery from recession. Spaniards could yet have to head back to the polls in June.
De Guindos told ABC that Spain was well placed to achieve economic growth of close to 3.0% this year after expanding by 3.2% in 2015.
Quarterly growth would slow slightly in the January to March period to 0.7%, from 0.8% between October and December, largely due to faltering global prospects, he said.
Recommended Reading :
* Spain kept debt below 100% of GDP as economy grew in 2015
* Spain likely missed deficit goal in 2015 : Economy Minister