Cancelled flights UK - Spain due to France ATC action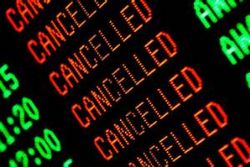 Hundreds of flights have been cancelled today due to on-going strike action by French Air Traffic Controllers, with hundreds more being hit by lengthy delays.
The majority of the affected flights are from routes flying over French airspace linking Northern Europe to Spain and the Canaries, particularly Germany, Scandinavia and the Netherlands.
Flights to the UK have faired slightly better, as in some circumstances French aerospace has been able to be circumnavigated.
However, disruption of some kind for those travelling between Spain and the UK today is seemingly inevitable, and the usual advise of "Check with your Airline before departing for the Airport" applies.
Recommended Reading :
* Spanish Airport tax freeze until 2021
* Spain saw 11.2% tourism growth in Janaury