Compromis Urges PSOE and Podemos to Solve Political Paralysis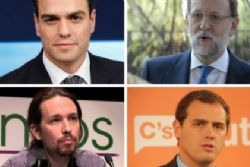 The Valencian Compromis Party urged today the PSOE and Podemos to clarify at once if they will negotiate the formation of a government in order to overcome the institutional paralysis that Spain is been facing for three months.
During an interview with the news agency Europa Press, Compromis spokesman in the Congress of Deputies, Joan Baldovi, warned that people in Spain are getting tired of the uncertainty that followed the general elections on December 20.
No to explore the possibility of forming a government seems frivolous, Baldovi said, after calling the leaders of the Spanish Socialist Workers' Party (PSOE), Pedro Sanchez, and Podemos, Pablo Iglesias, to break with this context of uncertainty.
Baldovi considered that the pact sealed by the Socialists with C's was premature. As a result Sanchez could not be proclaimed president of the Government due to the lack of necessary support on March 4.
If you want to reach to an agreement you should tone down your statements, because demure attitudes can contribute to an understanding, he said.
He said that in history, opportunities are given just few times, and that is why he asked the PSOE and Podemos to take this occasion and reverse some or all the policies of the government led by Mariano Rajoy.
Baldovi admitted he is not optimistic about the results of the meeting to be conducted next Wednesday between Sanchez and Iglesias.
In his opinion, just one phone conversation between the two leaders in the three weeks after the failed investiture, denotes their unwillingness to solve the situation.
Recommended Reading :
* Rajoy has barely met in person with Kin since election
* Podemos second in command readying move to win control of party