Rajoy relents on refusal to deal with parliament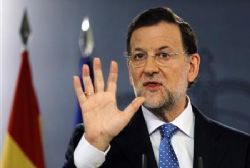 Spain's acting PM Mariano Rajoy agreed on Tuesday to go to parliament and report on his latest meetings with the European Council, backing away from an earlier refusal to submit to parliamentary oversight of his caretaker government.
The dispute between parliament and Rajoy's centre-right Partido Popular, which lost its parliamentary majority in a December national election, has added to political deadlock in the country which has been without a government for 100 days.
He has refused to answer to a parliament that he says does not support him, meaning many bills passed have not become law.
But Rajoy, who had declined to inform parliament about previous EU meetings such as one on expulsion of refugees to Turkey, on Tuesday yielded to pressure from opposition parties and said he would appear before lawmakers on April 6.
"It will be an informative hearing to tell (the public) what was discussed (in Brussels) and to say that I have listened and defended Spain's mandate according to parliament," he told Onda Cero radio.
He said his shift did not represent a U-turn from his previous stance, and he would still contest parliament's control over his government.
Spanish parties have failed to form a government after more than three months of fruitless negotiations and two unsuccessful parliamentary votes to back a coalition led by the Socialists, the second-largest party.
On Wednesday, Socialist head Pedro Sanchez will meet the leader of the anti-austerity party Podemos, Pablo Iglesias, in an attempt to find a breakthrough in negotiations. Iglesias has so far refused to join Sanchez's proposed "government of change" with other newcomer party Ciudadanos.
Parties have until May 2 to produce an alternative majority or parliament will be dissolved and Spaniards will have to return to the ballot box, most likely in late June.
Opinion polls show a new election would be likely to deliver a similarly fractured result as in December.
Recommended Reading :
* PSOE open to representatives from Podemos, Ciudadanos in Government
* Spanish parties enter final stage of talks in weakened state