Ryanair Relaunches Newquay Spain Route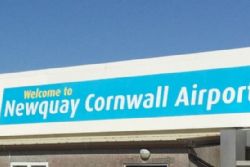 Budget airline Ryanair has launched its new routes from Newquay to Alicante in Spain and Frankfurt Hahn in Germany.
The routes will operate twice weekly, with flights to Alicante on Wednesdays and Sundays, and to Frankfurt Hahn on Thursdays and Sundays.
Lisa Buckley, Ryanair's sales and marketing executive, said: "We are pleased to launch our two new routes from Newquay Cornwall to Alicante and Frankfurt Hahn, which will both operate twice weekly and deliver 35,000 customers per annum at Cornwall Airport Newquay."
Cornwall Airport Newquay's managing director, Al Titterington, said: "It's fantastic to welcome Ryanair back to Cornwall with the start of these two new services.
"To give the first visitors arriving from Germany on the inaugural flight from Frankfurt-Hahn their first taste of Cornwall we've welcomed them all with a Cornish Pasty from Cornish Premier Pasties.
Mr Titterington added: "With the popularity of Cornwall in Germany, this new route should prove a welcome boost to the tourism sector here in Cornwall.
"With the start of the Alicante service as well, we're delighted to again be offering a direct summer sun route for our local market, without the need to travel out of county."
Recommended Reading :
• Ryanair axes Newquay to Alicante route - 2011