Podemos to Vote on Socialist Government Support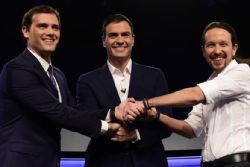 Anti austerity party Podemos (we can) is set to hold a grass roots referendum of its members on whether or not to back a socialist government in Spain as early as next week.
Podemos, which came in third in the December 2015 elections, had until recently drew lines on what it was prepared to negotiate on and what it demanded from any coalition government it went into partnership with.
Gaining control of several key ministries, their leader Pablo Iglesias becoming deputy president of Spain as well as allowing a referendum on succession in Cataluña were but a few demands the party insisted were non-negotiable.
Whilst PSOE leader, Pedro Sánchez was prepared to discuss their demands in order to create a coalition government and eject the PP from power, things took a turn for the worse when PSOE formally declared a partnership with 4th place party Ciudadanos.
Ever since, Podemos and Ciudadanos have traded words over their differences dashing any prospect of a coalition being formed.
However, recent polls have suggested should the public be forced back to the ballot box in June, Podemos would likely lose many of the parliamentary seats it won in December. A prospect which may have spurred Podemos in to action and becoming more flexible with their demands and restart negotiations before the 2nd May 2016 deadline.
The inconclusive result in December has left Spain without a formally declared government. The previous government of the PP who won the most seats, yet failed to achieve an outright majority has retained government power, albeit in a caretaker capacity, until a government can be formed through coalition or fresh elections in June.
Worryingly, the PP caretaker government has taken the position they are not answerable to Parliament for their actions during this period. It appears the PP is more or less doing what they want without any kind of parliamentary oversight, an apparent result of a constitutional loophole.
Several high profile state visits have been cancelled or postponed both to and from Spain as a consequence of no formal government. King Felipe VI was forced to postpone a royal state visit to the UK, scheduled for March 2016. The visit would have been the first by a Spanish monarch since 1986.
US President Barak Obama is said to be eager that Spain get on with forming a government as quickly as possible. The 44th President is keen to visit Spain later this year, but plans have been shelved until a formal government is in place.