Botched Restoration Castle Wins Architecture Prize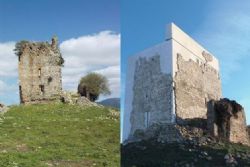 A national monument in South West Spain which became internationally famous for a botched restauration attempt has won a pretigeous architectural award.
El Castillo de Matrera in Cadiz was, until recently, a ninth century ruin which became a national monument in 1949.
However, a restoration project on the privately owned ancient Moorish castle ended up infuriating locals and historians who have commented it now resembles a 1960's multi-storey car park.
Cultural heritage campaign group, Hispanianostra described the restoration project as "absolutely terrible"
One local exclaimed "They used builders instead of restorers, they've wrecked it!" whilst speaking to reporters on Spanish TV.
Images of the "botched" restoration quickly went viral bringing worldwide criticism and embarrasement to the nation.
Yet, to everyones surprise, the restoration was nominated for the prestigeous Architizer A+ in the architecture and preservation category... And WON!
It's not the first time Spain has been lucky to flip a "bad" restoration into a positive icon of success.
In 2012, pensioner Cecilia Giméneza gained international notority for her attempt at a "restoration" of a priceless fresco of Jesus Christ "Ecce Homo".
Despite the apauling result and wordwide criticism, the botched restoration became an international sensation. Borja, near Zaragoza quickly became a tourist hotspot with visitors from around the globe decending on the small town and transforming the economic woes of the locals.
However, historians and cultural heritage groups are extremely concerned the potential notoriety and fortunes on offer for failed or horrendous restoration attempts, could result in priceless artifacts being intentionally damaged.