Lard Ass Donkey Killer Walks Free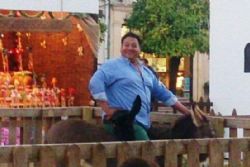 A man on trial for causing the death of a baby donkey in a live nativity scene in Lucena, Cordoba has walked free from court.
The incident happened in December 2014 where the man, Evaristo Jimenez, jumped a boundary fence and climbed onto the back of the FOUR month old animal named Platero.
Despite weighing almost 150kg, the man then paraded himself in front of friends who took photos of him appearing to ride the donkey and distributed them via whatsapp.
Platero died 2 days later as a result of internal injuries allegedly sustained in the attack. A post-mortem determined the donkey's insides literally exploded presumably under the weight of the obese man.
Photos of Evaristo went viral after a huge public outcry condemned his actions, especially as it was a nativity scene with live animals for children.
Animal rights group Peta said there was "no excuse for the pain that this donkey endured from his internal injuries or for his horrible death"
Following a Police investigation, the man was identified, arrested and ordered to appear in court.
Evaristo later appeared on state television to defend himself and claimed the donkey he climbed on was at least 5 or 6 years old. He believes the young "burrito" died after being kicked for trying to suckle from another adult donkey in the absence of it's own mother.
The case eventually reached court earlier this month, however the case was thrown out by a judge in Malaga who ruled the incident "did not constitute a crime".
The judge said "We do not credit any aggressive action on the part of the accused, or neglect on behalf of the town hall, which is worthy of criminal sanctions" but added this did not "close the door to possible administrative or civil penalties."
El Refugio del Burrito, a donkey sanctuary which brought the complaint said they will appeal the courts decision.