Last Minute Talks Ruled Out Elections Inevitable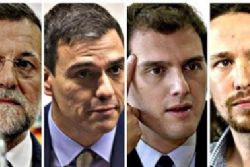 Political parties in Spain have ruled out last minute talks to secure parliamentary support and form a government making a general election in June almost inevitable.
Recent advances in discussions broke down last week after anti-austerity group Podemos (We Can) balloted its members in which almost 90 percent rejected a coalition pact with socialists PSOE and new comers Ciudadanos.
Podemos appeared to approach the fresh round of talks with more urgency and a seemingly willingness to make concessions on red-line issues the party had previously refused to cross.
Spain has been without a government since December 2015 after an inconclusive election result left no outright majority winner and a hung parliament. A coalition government had been predicted to evolve pretty quickly.
However, the PP (Partido Popular, or People Party in English), which won the most votes immediately refused to work with Podemos and instead proposed a grand coalition with PSOE and Ciudadanos.
PSOE flatly rejected the idea and Podemos never had any intension of working with the PP anyway. Acting Spanish PM Mariano Rajoy still maintains that a grand coalition is the best possible outcome for Spain.
In what appears to be a last ditch attempt to breal the deadlock, Ciudadanos leader Albert Rivera has proposed a transition government led by an independent figure be voted in. Speaking to Telecinco news, Rivera said "We should assume that we have failed and we should work on a consensus government that could make reforms". PSOE leader Pedro Sanchez rejected this idea.
Much of the debate since December has revolved around PSOE, Podemos and Ciudadanos (SECOND, THIRD and FOURTH place parties respectively) whilst the PP have been relatively silent throughout.
Analysts had predicted that should another general election be called, the PP would emerge better placed to form a government if not revealed as outright winners whereas PSOE and in particular, Podemos, would fair much worse losing several seats gained in the December election. Ciudadanos would remain more or less the same.
However, recent polls suggest this is no longer the case. If anything, the outcome is more likely to be inconclusive yet again. The PP could suffer significant losses and PSOE would probably lose a few seats. Podemos and Ciudadanos would likely make gains.
Political parties have until 2nd May to form a government. If no proposal is forthcoming, King Felipe VI of Spain will have no other alternative than to call for a general election in June.