Spain's Sabadell posts 44% profit jump boosted by TSB purchase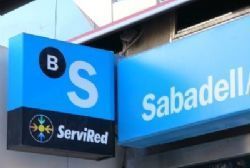 Spain's fifth-biggest lender Banco Sabadell on Friday started to reap the fruits of its acquisition last year of British peer TSB as first-quarter net profit jumped 44% from the same period in 2015, widely beating analysts' forecasts.
One of the most acquisitive bank during the financial crisis, Sabadell has also benefited from a sharp rebound of the country's real estate market which has enabled it to set aside less money to cover for bad loans and boosted earnings at its property unit.
Net profit came in at 252 million euros, beating a Reuters forecast of 215 million euros, while net interest income, or profit from loans minus funding costs, rose 51% to 974 million euros.
Excluding TSB, which has been consolidated in Sabadell's earnings since Q3 of last year, net profit and net interest income would have been up 9% and 8.2% respectively.
Recommended Reading :
* Last year saw Spain's biggest capital flight since 2012
* Spain mortgage loans rise at fastest rate on record in 2015