Spain breaks its own record for joblessness of over 20%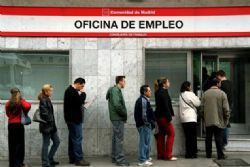 Spain has just broken one of its more dubious records. The latest statistics show that the country has endured a jobless rate of over 20% for 66 straight months, or five-and-a-half years.
The previous record – of 5 years and 3 months – was set not so long ago, in the mid 1990s.
The most recent quarterly figures, released on Thursday by the National Statistics Institute (INE), show persistent joblessness, despite the fact that the job market has actually been recovering for nearly 2 years.
Even as the economy continues to grow, the outgoing crisis is still leaving a few negative milestones behind. Between the time that employment began to flag in 2007 and the moment it hit rock bottom in early 2014, one out of every five jobs in Spain was axed, representing nearly four million positions.
In early 2013, the jobless rate had soared to around 27%. From January to March of that year, there were more than 6.2 million people without a job.
A better big picture
The labor survey released by INE on Thursday is not bad in its overall figures. While jobless claims grew and employment fell, the first quarter of the year is always bad for jobs. And the larger trend points to a recovery. The 18 million jobs or so registered in the first quarter of 2016 represent an annual increase of 3.3%, the fastest pace recorded in years. And the 4.8 million unemployed represent a drop of 12%.
Seasonally adjusted figures also show that the activity rate grew 0.87% in the first quarter.
Unproductive jobs
But the economist José Ignacio Conde-Ruiz notes that "if job creation picks up, as it is doing, while the economy slows down, that proves that the productivity of the jobs being created is very low. They are bad jobs. The model is headed to what it always has been."
The evolution of temporary work in the last year appears to confirm this statement. In the last 13 months, there was a 10% increase in the number of temporary workers, from 3.4 million up to 3.7 million. The temporary employment rate is now 25%, nearly 1.5 percentage points higher than in the same period last year.
Seasonal work has always been the classic way out of labor crises in Spain, and this time is no exception. But the fact that it remains so strong two years later shows that entrepreneurs are still not confident enough about the future to hire permanent workers.
And there are other indicators that speak eloquently about the situation. Between January and March, there were 719,100 households without any kind of income, and 1,610,900 households where no member of the family had a job.
Recommended Reading :
* Euro-zone January unemployment at lowest rate since August 2011
* Spain's political stalemate shows signs of stifling recovery