Bank of Spain sees rise in downside growth risks in last few months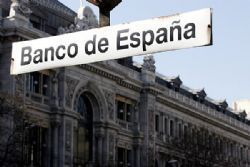 The Bank of Spain said on Wednesday risks of lower-than-expected global and Spanish growth had risen in the last few months and warned that low interest rates and profitability could also hit the country's banking sector.
The central bank said risks included the possibility of a deeper-than-expected downturn in emerging economies and a rise in global geopolitical tensions.
The bank also said that political uncertainty in Spain after December's inconclusive election and ahead of new elections in June could hurt growth due to a rise in doubts over stalled economic policy.
In its May financial stability report, the bank said stalled banking revenues, still high soured debt levels at lenders and a fall in financial asset prices also posed risks to the sector.
Recommended Reading :
* Brussels lowers Spain's public deficit forecast
* Sanctions loom over Spain for breaching fiscal rules