British expats in Europe living in fear of Brexit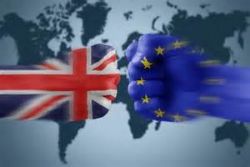 With the 23rd June referendum looming closer, British expats in Europe are becoming increasingly anxious about the repercussions of Britain leaving the EU, with experts predicting an exodus from the continent if the vote swings in Brexit favour.
With the likes of France threatening to remove access to public healthcare for Britons in the country and Spain already loosing British expats by the day due to its economic woes, the referendum is breeding panic amongst expats and James McGrory, of the Stronger In campaign agrees, stating: "It's clear that a Brexit would result in years of uncertainty for Brits abroad, with no automatic guarantee of their current rights."
If Britain were to leave the EU, becoming a non-EU citizen leaves no boundary in place and countries such as Spain, France, or any other EU country, are free to discriminate against expats.
With the current standing allowing any EU citizen to set-up home in any EU country, there has been a growing disparity between the number of Europeans living in Britain and the number of British expats on the continent; 2.9 million Europeans in Britain and 1.2 million Britons in the EU – according the UN data. Given that the area covered by EU countries is 4.325 million km2 and Britain only 229,848 km2 the imbalance is an issue people want addressing.
Rob Oxley, of the Vote Leave campaign said the data was "a perfect example of how the balance of power favours the UK." He continues, "There is a huge incentive for Brussels to do a deal. Pro-EU campaigners do Britain down by saying we can't do a deal but we have a strong hand, and we should play it. Despite the scaremongering no British expats are going to be asked to leave the EU post Brexit."
Many also fear the potential of pensions rising with inflation should Brexit become a reality. The government only raises the value of the state pensions for people living in the EU, with Britons in Australia, for example, denied the advantage.
Students with an inclination to study in Europe in the future may have to reconsider if Britain leave the EU. Currently non-EU students pay substantially higher educational fees if studying abroad in an EU country which would deplete a wealth of scholarly opportunities for British students who simply cannot afford it.
In the past, several polls showed only a fraction of British voters wanted the UK to leave the 28-nation partnership. However, a September 2015 survey provided a different consensus. In the assessment (market research conducted by Survation) 43% of participants indicated the UK should depart the EU, 40% wanted to stay and 17% were undecided.
Recommended Reading :
* EU Intervention sought over UK : Spain Gibraltar Airport row
* Expats quit Spain over Brexit fears