What British expats in Spain should know about the Brexit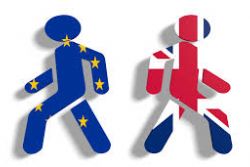 British expats who wish to vote in the June 23 "Brexit" referendum have until June 7 to sign up on the UK Government webpage.
UK nationals living abroad who have been on the electoral register in the UK in the past 15 years are eligible to vote.
The deadline to register for a postal vote is May 16. Voting papers will be sent out in the week beginning May 23, according to the British embassy in Madrid.
The embassy also reminds people that if they miss the May 16 deadline for a postal vote, they can still register online at Register to Vote but will need to choose someone in the UK to vote for them.
On Friday, UK ambassador to Spain Simon Manley urged British expats to vote.
"Whether your view is that the UK should remain in or leave the EU, I urge all eligible expats to register to vote in this historic referendum," Manley said at an event in Málaga, adding: "It is for the British people to decide whether we're stronger, safer and better off as part of the European Union, or on our own."
Manley revealed that the UK voter registration site is receiving around 1,000 hits a day from users in Spain.
300,000 British Expats were registered as being legally resident in Spain in 2014.
Recommended Reading :
* British Expats in Europe living in fear of Brexit
* Expats quit Spain over Brexit fears