UK minister on flight to Gibraltar denied access to Spanish airspace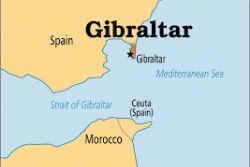 Last week, an official flight carrying British Foreign Secretary Philip Hammond to Gibraltar was diverted over Portuguese airspace after being denied permission to fly over Spanish territory.
Spanish diplomatic sources said that the decision to deny access was not in retaliation for the minister's visit. There are regulations in place so that no state flight in or out of Gibraltar can pass through Spanish airspace.
The measures do not apply to civil flights, but they do apply to those made by the British Air Force, which frequently performs exercises at the airport on the Rock of Gibraltar. The airport is located on an isthmus that Spain claims was never ceded in the 1784 Treaty of Utrecht that handed Gibraltar to Britain.
These restrictions also prevent aircraft and vessels departing from Gibraltar from entering a Spanish port or airport immediately after. "All NATO partners are aware of them, especially Hammond, who was formerly the Secretary of State for Defence," added the same sources.
Hammond's visit, the first to Gibraltar by a British Foreign Secretary since 2009, was not well received by Madrid.
During his visit, primarily to campaign against Brexit, Hammond said London would not begin any negotiations with Spain on the future of the overseas territory without the explicit approval of the Gibraltar government. He also reaffirmed the importance of establishing a tripartite forum for regular dialogue between Britain, Spain and Gibraltar.
Recommended Reading :
* Gibraltar backs stay in EU in Brexit referendum
* EU intervention sought over UK-Spain-Gibraltar airport row