Spain's public debt rises 14 billion euros in March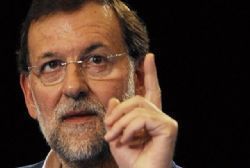 Spanish public debt rose to EU1.1 Trillion in March, EU14 Bln higher than that recorded a month earlier, the Bank of Spain said on Wednesday.
Debt as a percentage of economic output stood at 101.3% at the end of March, according to Reuters calculations using end-2015 GDP data.
Using the government's projected 2016 GDP data included in its budget proposal for this year, debt stood at 95.9% of economic output.
Spanish debt-to-GDP was 99% at the end of December, the Bank of Spain said on March 15, slightly above the official forecast of 98.7%.
The government's debt-to-GDP targets are 98.5% for 2016, 96.5% for 2017 and 93.2% for 2018.
Recommended Reading :
* Spain's public debt over 100% of GDP for first time in more than a century
* Brussels asks Spain for EU8 Bln spending cuts