Popular Party faces freeze on assets if it fails to pay €1.2m civil bond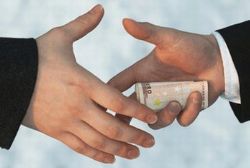 A High Court judge has given Spain's Popular Party (PP) a period of 10 days to pay a civil bond of €1.2 million in connection with a court case relating to an alleged party slush fund and irregular payments, the radio station Cadena SER reported on Monday. The party, which is currently in charge of a caretaker government after inconclusive elections in 2015, will face having its accounts and assets frozen should it not make the payment.
The case in question is related to the former treasurers of the party, who are alleged to have paid for refurbishment work at their national headquarters, in Génova street in Madrid, with undeclared cash, as well having allegedly maintained a slush fund of irregular donations and payments for at least 18 years.
The €1.2 million bond was set by High Court Judge José de la Mata in 2015. The amount relates to the failure of treasurers Luis Bárcenas and Álvaro Lapuerta to pay taxes of €220,167 on irregular donations to the party of €1.05 million. The remainder of the bond is connected to the €1.05 million that the PP allegedly helped defraud from the Spanish Tax Agency in 2008, when it supposedly paid architecture firm Unifica for refurbishment work at its Madrid HQ with undeclared cash.
The responsibility for paying the bond lies with the PP, Unifica, Bárcenas and Lapuerta, as well as former party chief Cristóbal Páez. However, they all claim to lack the funds, and as such the magistrate is calling for the party to cover the entire bond.
The so-called "Bárcenas Papers" scandal broke in 2013, when accounting ledgers supposedly kept by the former treasurer were published by EL PAÍS. The papers allegedly showed a double-accounting system within the then-ruling party. According to the documents, and Bárcenas' own admission, the party was receiving irregular donations from Spanish firms, and regularly paying out cash bonuses to a number of high-profile party figures, including the party's secretary general María Dolores de Cospedal and acting PM Mariano Rajoy. Bárcenas has been in jail awaiting trial since the scandal broke, while other former party treasurers have also been questioned in court.
Recommended Reading :
* New June election will benefit PP : Poll
* Spain's election re-run would fail to break deadlock : Poll