Spain's centre-right PP to strengthen position in election - poll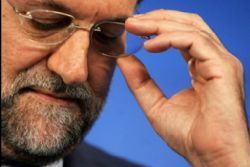 Spain's centre-right People's Party (PP) is on course to increase its share of the vote in a general election next month, a poll showed on Sunday, but it may not be enough to end political stalemate in the country.
An alliance of left-wing parties led by newcomer Podemos could overtake the Socialist party as the main opposition force, the poll in El Pais newspaper added.
Spaniards will vote again on June 26 after an inconclusive December election failed to deliver a mandate to govern to any one party and politicians were unable to agree on a coalition administration.
The PP, in power for four years and heading Spain's current caretaker government, topped the survey carried out by pollster Metroscopia and published in El Pais with 29.9%.
Although the party of acting PM Mariano Rajoy improved its rating by 1.2 percent points on December's percentage of the vote, such a level of support is unlikely to be enough to break the deadlock.
The alliance between anti-austerity party Podemos and former communist party United Left, Unidos Podemos ("Together We Can"), would garner 23.2% of the vote, the poll showed, beating the Socialists on 20.2%.
The poll showed percentage of vote and not the number of seats parties are likely to get in parliament.
The percentage vote of the two leftist parties combined is less than each won individually in the December election but due to the way the vote is counted would likely mean more seats in parliament than if they campaigned on separate tickets, the paper said.
The PP would benefit from a predicted low turnout rate of 68%, five percentage points lower than December's figure, the paper said.
Market-friendly Ciudadanos would come fourth on 15.5%, the poll showed.
The poll surveyed 1,200 people by telephone on May 17 and May 18.
Recommended Reading :
* New June election will benefit PP : Poll
* Parties fail to reach agreement to cut election campaign spending