Spanish Socialists propose political deal with Catalonia to end conflict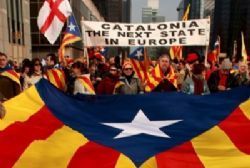 The central government's ongoing conflict with Catalonia could be resolved through "a political pact" that would insert new wording in the Spanish Constitution to reflect the region's "singularity" and to "improve its self-government."
In this hypothetical scenario, approval of the new constitutional text would be followed by a reformed regional charter (the Estatut) setting out clear powers for Catalonia.
The proposal has been made by Socialist Party (PSOE) leader Pedro Sánchez, who is up against opinion polls suggesting that he might drop to third place at the repeat election of June 26, after coming in second at the inconclusive vote on December 20. Spain has been in the hands of a Popular Party (PP) caretaker government since then.
The issue of Catalan independence has been a headache for all national parties for years. While the PP, which won the most votes in December but fell short of an overall majority, openly opposes any moves toward greater sovereignty, the Socialists have long sought to find a "third way" that will grant the region greater powers without granting outright independence.
Sincerity and courage
The Catalan branch of the PSOE has hailed Sánchez's latest suggestion, praising his "courage."
"The sincerity and courage demonstrated by Pedro Sánchez makes him noble," said Miquel Iceta, leader of the Catalan Socialist Party (PSC).
But other branches of the party are not so keen on the idea. The Andalusian Socialists are waiting to hear the details of the proposal, but have already expressed their rejection of any deal that grants some regions special privileges over others.
Sánchez's proposals for Catalonia are part of a larger 18-page document called "Compromisos para un sí al Gobierno del cambio" (or Pledges for Yes to a Government of Change). But his ideas for the region were not included in the Socialist electoral program that the party's federal committee ratified two weeks ago.
"Within the framework of constitutional reform, and consequently approved by all Spaniards, a political pact will be reached with Catalonia which, while respecting the implications of the principle of equality, still recognizes its singularity and improves its self-government," reads the paragraph on Catalonia.
Essentially, the initiative represents a bilateral deal between the Spanish state and the Catalan government. Socialist leaders noted that constitutional reform requires a nationwide referendum. After that would come the political negotiations to apply those changes to the Catalan regional charter. Ultimately, Catalans would vote on their new Estatut.
An ongoing conflict
Catalonia held regional elections in September 2015. The poll, which nationalist leaders leaders cast as a proxy vote on independence, was won by pro-sovereignty forces in terms of seats, although they represented under 50% of the popular vote.
A small secessionist group called CUP, whose votes became essential to the formation of a new government, pushed a radical motion through the regional parliament, triggering fears of an immediate breakaway from Spain. The thrust of that initiative has since fizzled out, but the question of what to do with Catalonia remains a thorny issue for all candidates hoping to become the next prime minister of Spain.
Recommended Reading :
* Ciudadanos ready to drop PSOE if they negotiate Catalan self-rule
* Booing at Spain's National Anthem : Not Illegal