Gibraltar fears Spain border closure upon Brexit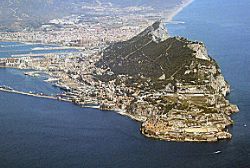 The UK overseas territory of Gibraltar could be forced to address the possibility of "joint sovereignty" with Spain if UK citizens support the country's exit from the European Union, Gibraltar's Chief Minister Fabian Picardo said Saturday.
Gibraltar is located on the Iberian peninsula and controlled by London since 1713. Some 300 years ago, Spain ceded Gibraltar to the UK, but Madrid is still trying to return it back.
"If Gibraltar wanted to have access to the single market and the rights we enjoy today of free movement, we would have to once again consider joint sovereignty with Spain which no one in Gibraltar is prepared to consider," Picardo told the Sky News television channel.
He added that in case of Brexit, Spain could close the borders with Gibraltar.
Inhabitants of the overseas territory had held two referendums on its sovereignty in 1967 and in 2002, that resulted in rejection of proposals to unite with Spain.
UK nationals are set to vote on June 23 in a referendum on the country's EU membership, after UK Prime Minister David Cameron and the leaders of the 27 other EU member states reached a deal in February to grant the UK a special status within the bloc.
Recommended Reading :
* UK Minister on flight to Gibraltar denied access to Spanish Airspace
* Gibraltar backs 'Stay in EU' Brexit campaign