Corvera Airport blamed for Murcia's slow economic recovery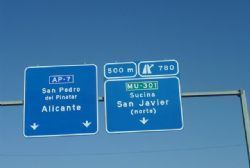 The President of the Chamber of Commerce for the Region of Murcia, Pedro García-Balibrea, has delivered the final draft of their annual report for the year 2015.
The report concluded that whilst a recovery in the economy has been evident throughout 2015, the inability of the government to deliver projects such as the operation of Corvera Airport and the arrival of the high speed AVE train had severely impacted upon any improvement.
This comes almost 1 year to the day since news that Corvera Airport formally cancelled their contract with Aeromur, and therefore had to begin their licence application with the State Aviation Agency (EASA) over again.
similarly, it is almost 2 years to the day since the regional government of Murcia suggested that Corvera Airport would be operational by May 2016.
Recommended Reading :
* Murcia's Corvera Airport : Open May 2016, Ryanair Hub ?
* Back to square one for Corvera Airport ?