Amnesty says Spain asylum system 'obsolete'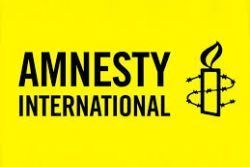 Amnesty International called Tuesday on Spain to reform an asylum system it labelled "inefficient, obsolete and discriminatory", blasting the "embarrassing" low number of refugees that have been taken in.
After interviewing more than 80 asylum seekers and refugees and visiting several reception centres, the rights group concluded these faced big - often years-long - waits for their cases to be dealt with, coupled with inadequate financial aid that forced some onto the streets.
"There are governments like ours that don't have the will to take in (refugees), that welcome them in dribs and drabs, despite public opinion that on the whole wants to take them in, as do most regional public administrations," Amnesty Spain director Esteban Beltran told reporters.
Spain gave protection to 1,030 asylum seekers in 2015 - be it refugee status or subsidiary protection, one step down - meaning that they were allowed to stay in the country, according to the Eurostat statistics agency.
That figure pales in comparison to more than 26,000 in neighbouring France and 5,605 in Bulgaria.
Germany meanwhile saw a record influx with over 475,000 asylum requests filed and over 140,000 accepted so far.
Spain is also one of the European countries with the lowest rate of asylum applications.
Last year, some 1.3 million people coming mostly from conflict-ridden Syria and Iraq asked for asylum in the EU.
So far this year, some 204,000 people have crossed the Mediterranean to the continent, according to the UN refugee agency.
Lucky few
And while Spain has pledged to take in more than 17,000 refugees from camps inside and outside the EU, these have only just started to trickle in.
Amnesty warned that even these lucky few were facing an uphill struggle.
The system sees asylum seekers stay in reception centres for up to 9months.
They are then cast out into the wider world, receiving financial help for rent and other necessities for six more months, and up to 11 for the most vulnerable.
And it ends there, apart from the odd exception.
But "there are people who wait years for their application to be settled," says Virginia Alvarez, head of home affairs for Amnesty Spain.
In the meantime, says Amnesty, some are forced onto the streets as their funds run out - or try their luck in other countries.
The NGO added that the system is discriminatory, with Syrian asylum seekers' applications often seen to be dealt with more quickly than people from sub-Saharan Africa for instance.
"The system can't keep going like this," said Beltran, calling on whatever new government that emerges after June elections to reform it.
Recommended Reading :
* Telefonica unveils portal to help new refugees in Spain
* Spain will take in more refugees but says it is overwhelmed by petitions