Spain expects 6th record year for Tourism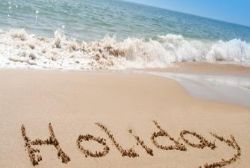 Once again, Spain's tourism sector is readying itself for a record number of arrivals this summer, boosted for the sixth year running by ongoing security fears in other Mediterranean destinations such as Tunisia, Egypt and Turkey.
Employment agencies say they are expecting a 13% increase in temporary hires over the summer months, while car sales have soared 38% year-on-year as rental firms buy new fleets of vehicles to meet expected demand.
The anticipated summer boom follows a record number of arrivals between January and April of this year: some 18.1 million, up 13% on the same period for 2015. "The outlook is spectacular. Failing a catastrophe or some major security issue, we'll beat last year's record easily," says Ricard Santomà, dean of the Tourism faculty at Barcelona's Universidad Ramón Llull, adding that many airlines have lowered ticket prices to reflect the fall in oil prices.
"Countries such as Egypt and Turkey still face enormous problems," says Rafael Gallego, president of Spain's CEAV confederation of travel agents. "Spain will receive many of the tourists who could have traveled to those countries, which compete with us as sun and beach destinations. As a result, there are areas in the Balearics were it is already impossible to find accommodation this summer," he adds, noting that he also expects to see an increase of up to 15% in the number of Spaniards taking a vacation at home.
Last year, some 68 million tourists visited Spain. If the current monthly increases for this year continue, the country will easily reach 70 million for this year. Santomà says he is concerned that the country could be reaching saturation point: "This is an aspect that Spain has not looked at carefully enough. It's one of the first things we teach on our course: you have to know what the load capacity is. But the government and the sector have never sat down together to discuss this seriously, not even in cities like Barcelona, which already receive 10 million people."
The tourism sector has driven Spain's economy over the course of the crisis, although many hotels have been forced to lower their prices in order to continue attracting visitors during the worst years of the recession. Prices in three- and four-star hotels this summer will be the same as when the crisis began in 2008. But the average cost of a five-star hotel has risen: from €168 eight years ago to €171.
Recommended Reading :
* 'Tourists go home' : Spain tourism surge brings backlash
* Spain hosts 18 Mln tourists between January and April