Spain Fires Up Another Campaign With Rajoy Recovery on Trial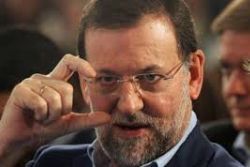 Spain's political leaders return to the campaign trail for the 2nd time in 6 months on Thursday as the country wrestles with how best to consolidate its economic recovery.
Caretaker PM Mariano Rajoy is promising to create 2 million jobs if voters give him enough support to stay in power after the June 26 ballot. His traditional Socialist rivals and the anti-austerity group say Spain must do more to ensure the poor and the middle class benefit. The pro-market group Ciudadanos, which came fourth in December, is calling for more ambitious reforms to fix the education and justice systems and to tackle corruption among political parties.
"We've overcome a period of enormous difficulty," Rajoy said in a radio interview Thursday morning. "We are on the right path, but there is still work to do."
Rajoy's People's Party is aiming to consolidate its position as the biggest group in parliament to force other groups to let it lead the next government while Podemos's leader, Pablo Iglesias, wants to forge a progressive alliance with the Socialists. Opinion polls suggest Podemos may overtake the Socialists to claim second place, posing a dilemma for Socialist leader Pedro Sanchez. "The next government will either include the PP or it will include Podemos," Iglesias said in a separate radio interview. "It's the Socialists who will decide." All four parties will kick off their campaigns with rallies in the capital on Thursday night.
For more on the new parties' efforts to oust the PP, click here.
Spaniards are heading to polls with the economy growing at 3.4% a year, close to the fastest pace since 2007. But after almost 3 years of expansion since the crisis, unemployment is still 21%, double the European average.
Political Gridlock
Investors are demanding 135 basis points of extra yield to hold Spain's 10-year bonds instead of German debt, up from 123 basis points the day after December's vote. The gap has widened even as the ECB has extended its bond-purchase program.
Spain's politicians are trying to find a way out of the impasse created by December's election when Rajoy lost a third of his seats and his parliamentary majority. The emergence of Podemos and Ciudadanos in their first general election meant there was no clear combination of parties that could control the assembly. Sanchez's attempts to lead a three-way alliance with the two new parties floundered because of Iglesias's opposition to the economic policy program that the Socialists had thrashed out with Ciudadanos.
While polls suggest there may be little change in the voting from last time, all the party leaders have signaled they want to get beyond the stalemate of the past few months since a third election would be an embarrassment for the political class and try the patience of voters.
Rajoy is on track to get 29.2% of vote, half a percentage point more than in December, but he could lose as many as five of his 123 lawmakers, according to a survey by state-owned pollster CIS released Thursday. Podemos's agreement to join forces with the former communists of the United Left makes seats harder to come by for the other parties.
Policy Plans
Podemos would be the biggest gainer according to the CIS polling, adding as many as 19 seats for a 92-strong parliamentary group. Ciudadanos's position would be little changed with about 39 seats while the Socialists could lose as many as 12 of their 90 lawmakers. CIS interviewed 17,488 between May 4 and May 22 and the margin of error was 0.76%.
The PP's campaign is focused on the economy. It's pledging to reduce the income tax and some social security contributions and take measures to shorten the working day - which often stretches to 8 p.m. or 9 p.m. in Spain. The acting prime minister, who's been tarnished by links to a party corruption scandal, has a relatively low profile.
Podemos is pledging to raise income tax for anyone earning more than EU60,000 per year and to boost the marginal rate for people earning EU300,000 or more to 55% from 45%. The anti-establishment group also will introduce a levy on financial transactions. The PSOE plan to revive the wealth tax to boost government revenue.
Pro-market Ciudadanos is also promising to cut income tax, though not till 2018. It wants a new long-term contract to make the labor market more responsive to shifts in the economy and a different system of workers' safeguards to make it easier to change jobs.
Recommended Reading :
* PSOE come up with last ditch offer in bid to avoid new elections
* PSOE attack Podemos for calling itself the new social democracy