Second election campaign kicks off in Spain, but no party is yielding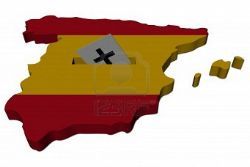 A new campaign race is underway in Spain, and everyone is claiming that there will be no need for a third election – although nobody has explained why that is.
Although it is being dubbed "the unblocking campaign," all four main parties refuse to budge on positions that prevented a governing deal the first time round, and continue to reject coalitions with specific groups.
PP sitting tight
The odds-on favorite Popular Party (PP), which has been in charge of a caretaker government since the inconclusive election of December 20, is still convinced that the only way out of Spain's political impasse is a grand coalition headed by acting PM Mariano Rajoy.
The conservatives have adopted a polarizing strategy aimed at pushing the Socialist Party (PSOE) into a corner and forcing the latter to accept this grand coalition. The PP also seeks to relegate the liberal Ciudadanos, an upstart party that came in fourth at the December election, to a position of irrelevance.
As for the new Unidos Podemos alliance, made up of the anti-austerity Podemos and the United Left, Rajoy is dealing with that threat by reiterating that "Spain needs a period of moderation against the risk of extremism."
Fighting to remain relevant
He is not the only one casting the leftist group as dangerous to the country's stability. The Socialists, who stand to lose the most votes to Unidos Podemos – recent polls predict a reversal of roles, with the alliance bumping the PSOE down to third place at the upcoming election – are stressing the communist element in United Left and warning that its proposals would be harmful to Spain.
The Socialists continue to claim that they will never enable another PP government. But their great fear of being overtaken by Unidos Podemos, which now claims to be "the new social democracy," was evident at the PSOE rally held in downtown Madrid on Thursday evening.
Speaking to a crowd at the newly renamed Pedro Zerolo square – honoring a gay rights activist who died recently – Socialist leader Pedro Sánchez tried to appeal to voters' loyalty. Despite the bad forecasts, he told them that "the future is not written in advance" and that socialism "is not about resignation, it is about fighting."
Yet party officials know that what's really at stake is the continued relevance of a 137-year-old party that was instrumental in Spain's transition to democracy, then shared power in turns with the PP, but began to lose voter support since its massive defeat in the 2011 election.
The different names of Podemos
By comparison, Podemos leader Pablo Iglesias began the new campaign for the June 26 election with a much more confident message.
"It is very likely that we will have to take on very important responsibilities," he told a crowd of supporters. Flanked by his right-hand man Íñigo Errejón, IU leader Alberto Garzón and other alliance officials, Iglesias reiterated his earlier offer to build a large center-left governing coalition with the Socialists: "We are going to reach out to them to head a government of change," he said.
Originally termed as anti-austerity, the new Unidos Podemos group is variously described as communist, social democratic and populist. The alliance has demonstrated an ability to be all of these things and none of them at the same time, controlling their message in order to attract as many leftist votes as possible.
Ciudadanos goes on the offensive
Ciudadanos leader Albert Rivera has started the new campaign with a defense of his deal-making policy, and a renewed desire to make a difference in Spanish politics despite its smaller share of the vote.
"If Ciudadanos is not decisive, the PP and the PSOE will not change a single one of their mistakes of the past years. Where we have been decisive, change has occurred," he said, alluding to his regional agreements with the PP in Madrid, La Rioja, Castilla-León and Murcia and with the PSOE in Andalusia.
"The future of this country largely depends on Ciudadanos' results at the polls," added the 36-year-old leader of a group that started life a decade ago as a non-nationalist Catalan party and made the jump to national politics in 2014 on a platform of democratic regeneration.
Despite his ambitious statements, Rivera will also be fighting to remain relevant ahead of a ballot where, polls say, he will win more votes yet lose one or two seats because of the way the Spanish voting system weighs votes.
Recommended Reading :
* Spain fires up another campaign with Rajoy recovery on trial
* New poll confirms Spanish parties will be forced to reach new elusive deals