Rajoy Wades into Brexit Debate Regarding Gibraltar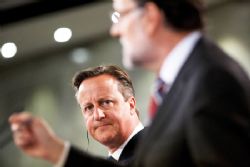 Acting Spanish PM Mariano Rajoy has caused controversy by wading into the Brexit debate regarding Gibraltar during an interview with Spanish radio station RNE.
Expressing his objections over a pending visit by British PM David Cameron to the rock, Rajoy reiterated that "Gibraltar is Spanish" and "the debate is about whether the UK remains within the EU or not. It should therefore happen in the UK and not Gibraltar", despite Gibraltar citizens having a vote in the historic referendum on UK membership of the EU.
"Spain continues to think that Gibraltar is part of its own national territory, whether Brexit wins or loses" he added.
Organised by the Gibraltar Stronger In Campaign, David Cameron was due to attend a "Remain" campaign rally in Casemates Square, in the centre of Gibraltar.
His visit would have been the first by a British Prime Minister to the rock since 1968. Fabian Picardo, Gibraltar's Chief Minister urged all Gibraltarians to turn out for what he called "the big one".
No stranger to controversy, acting Spanish foreign minister José Manuel García Margallo told reporters on Thursday Brexit would "cause a huge problem for Gibraltar that could be solved by a joint sovereignty agreement".
We want Britain to remain within the EU but in the case of a Brexit, the situation in Gibraltar would be radically changed", adding "the most sensible solution would be to reach an agreement on joint sovereignty" with the UK.
Margallo has been at the forefront of increased tensions and aggression towards Gibraltar since the PP came to power in 2011.
He has previously said in the event of Brexit, Spain would "close the border" with Gibraltar the day after the result is announced. A threat which hasn't been received well in Gibraltar or London.
Despite all the Spanish sabre rattling, the visit was ultimately cancelled at the eleventh hour following the tragic death of Labour MP for Batley and Spen, Jo Cox, in West Yorkshire. All EU Referendum campaigning was immediately suspended for 2 days. A man in his 50's has been arrested and charged with her murder.
Gibraltar is widely expected to vote to remain in the 28 nation EU bloc, however it's fate depends on the overall result of the UK.