British Expats Anxiously Await EU Referendum Results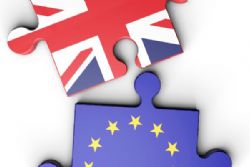 British Expats across Spain and the wider European continent are anxiously awaiting the result of the EU Referendum taking place in the UK today.
Voting began at 7am this morning and will continue throughout the day with polling stations due to close at 10pm (11pm Spanish time) tonight.
The referendum on whether the UK should remain in the EU or leave, has weighed heavily on the minds of millions of expats within Europe. Especially as their personal fate within Europe rests largely with the British electorate back in the UK.
Brexit or Bremain
Over the past few months during campaigning, little information has been forthcoming about how expats would be affected by a British exit from the EU, dubbed "Brexit".
With more than 400,000 expats in Spain alone and around a million UK visitors to Spain every year, it's surprising how little the UK or Spain has done to calm any fears or worries Brits may have.
Those on the leave side claim not much would change, however recent rhetoric from the Spanish caretaker President, Mariano Rahoy has suggested otherwise. In a recent interview he was clear that British expats living in Spain would "not attain the same rights enjoyed by EU membership", intimating that healthcare and other social services would be lost.
Under EU legislation, healthcare for EU nationals is covered by their own native countries. A scheme whereby EU nations can claim back healthcare costs for individuals not termed as resident.
Expats eligible to vote in the referendum, by enlarge, support remaining in the EU. Although, it should be noted that the threats and "scaremongering" from several EU bureaucrats has left many questioning what the EU is and fearful of the direction is it taking.
Swexit, Frexit, Grexit... Spexit?
Discontent over the EU is not isolated to the UK alone. Several other EU nations are experiencing a surge in anti-EU sentiment.
Sweden, France, Greece and possibly even Italy are heading in the direction of holding their own EU membership referendums. Countries which are very popular with British expats, but are becoming increasingly weighed down with all the regulations coming out of Brussels.
The single currency is a major bone of contention which is not favouring their own national interests, whilst Germany appears to be the outright winner from the Euro.
Major politicians from each country have expressed their desire to exit the EU bloc, whilst in Spain all politicians appear to be united on Spain's EU membership. Although, this position could change after the general election re-run on 26th June and as public anti-EU sentiment rises.
It is widely accepted that a Brexit could be the beginning of the end for the EU. Whilst EU officials would be keen to demonstrate the negative effects of an exit from the EU by other nations, an outright punishment agenda against the UK would no doubt hasten the breakup rather than prevent it.
Bureaucrats in Brussels have recently said they are poised to work with all partners within the EU bloc to handle any contagion whichever way the UK vote goes.
Constituencies and Results
The UK electoral constituencies have been split into 382 areas; 380 are within the UK mainland spread across England, Wales and Scotland. Northern Ireland and Gibraltar have been grouped into separate areas which make up the additional two constituencies.
The official result is expected to be announced in Manchester at some point tomorrow morning, after all counts have been completed. Although, some constituencies may announce their individual results beforehand and could give a rough idea of the overall result by around 3.30am UK time.
Final Word
It's worth mentioning at this point, Tumbit's position is neutral regarding the EU Referendum. There are benefits and negatives for both Brexit and Bremain.
Experts have highlighted the UK economy is better within the EU, whereas others have stressed it is being held back – And whilst many world leaders, including US President Barak Obama, have stressed how we should not ignore the experts, the experts don't always get it right and quite often it's difficult to determine whether their opinion is truly independent and objective or not.
Despite all the rhetoric, campaigning and speeches, there is one thing we can all be certain of... Tomorrow will be a new day, just like any other and everything will continue as normal.
If it's a Brexit, there is next to ZERO likelihood of an almighty economic nuke striking the UK or any other country around the globe. Expats will still enjoy the same freedoms, healthcare and protections under EU laws just like today. There is no immediate split from the EU and any negotiations of the UK divorce from the EU will take into account expats in the EU and EU nationals living in the UK.
If a Bremain wins the vote, again, everything just carries on as normal with some minor tweaks to agreements. Although, bureaucrats have been exposed and public awareness is heightened. It is imperative that they seize the opportunity to reform if it hopes to win back any credibility amongst the public in the UK and across Europe.