Surge of passengers expected at Castellon Airport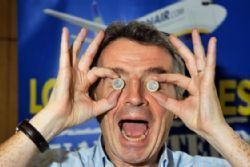 The operators of Castellón Airport are predicting an upturn in foreign visitor numbers - especially from the UK - this summer, following the first full season with air routes to the UK (London and Bristol) and Romania (Bucharest, which is soon to be joined by Sofia (Bulgaria).
Three Music Festivals - FIB (14-17 July), Arenal Sound (2-7 August) and Rototom (August 13 to 20)are also expected to see passenger number passing through the airport soar.
The Head of Tourism for the Province conceded that more work needed to be done to coordinate with the Hotel and Hospitality sector to maximize all opportunities, and that lessons would be learned for next year.
The major airline operating out of Castellon Airport - Ryanair - has already stated that passenger numbers are ahead of their initial expectations.
Recommended Reading :
* A Happier 5th Birthday for Castellon Airport
* Castellon Airport set to exceed 100,000 passengers in 2016