Anti Corruption Raids Launched Across Spain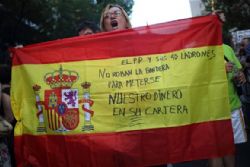 A huge anti corruption operation has resulted in the raids of numerous town halls and businesses across the country, the Spanish Interior Ministry has announced.
In this latest corruption scandal development, part of a long running saga which never appears to end, a total of 48 raids were staged, mostly in the Madrid and Catalonia regions, in which EIGHT town halls were targeted as part of an inquiry involving 340 police officers from 10 regions.
Several premises in Andorra where also raided as part of the investigation. Several people have been arrested, including a former mayor, civil servants and local businessmen suspected of "public administration offences."
The probe follows the detection of a possible organised crime network which was purposefully hidden behind state-owned enterprises in a suspected "graft" racket. Usually this type of corruption involves over inflated invoices being submitted to town halls for works which either never existed or was substantially less than what was invoiced for.
A statement from Spain's anti-corruption prosecutor's office said that those under investigation constructed a "parallel structure" in town halls in order to avoid official oversight.
"The creation of local state-owned companies that lacked any business activity was detected. These formed a fraudulent network through which local public funds were siphoned off first to another public firm, then to a private commercial company."
Most of the funds are believed to have ended up in Andorra, a small principality on the north-eastern border with Spain, which was recently added to the EU's blacklist of "tax havens" – A move which Spain has vehemently protested against and tried to reverse.
Some reports are alleging some of the town halls targeted were run by the pro-independence Democratic Converge of Catalonia (CDC). A party with secessionist aspirations to split from Spain.
CDC founder and regional hero, Jordi Pujol, is himself under investigation and due to stand trial over a suspected graft racket in which he is believed to have stashed millions of siphoned public money into tax havens, most notably, Andorra.
However, pro-independence groups in Catalonia claim this is a witch hunt by Spanish Police on regional politicians in an attempt to damage their credibility and curb their independence drive.
Adding weight to their claim, Spain's Interior Minister Jorge Fernandez Diaz was caught up in controversy last month, as a taped conversation between him and a top anti-corruption official in Catalonia was leaked, in which he appears to ask the official for help in discrediting rival politicians in Catalonia.
No names have been released of those arrested, the town halls or business involved