Spain says will escape EU deficit sanction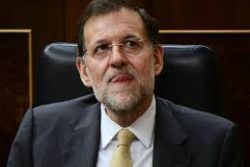 Spain will escape any sanction from the EU for missing its deficit goals last year, Economy Minister Luis de Guindos said on Thursday, adding that the country would agree on a new fiscal path with Brussels.
The European Commission began formal disciplinary procedures against Spain and Portugal on Thursday for their excessive deficits in 2014 and 2015, which may lead to fines for the two countries before the end of July.
"Proceedings for a potential sanction were opened, but I am convinced this sanction will not happen because Spain is the fastest-growing economy in the euro zone and it has passed more reforms than anybody else. It would be a nonsense," De Guindos told journalists at an event in Madrid.
"From there, a new fiscal path can be agreed and this is what is going to happen in the next few week," he added.
Recommended Reading :
* Brussels starts sanction proceedings against Spain over budget miss
* Rajoy asks EC to forgo deficit fine