Galicia train crash investigation was not independent : Brussels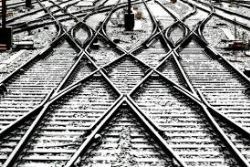 Brussels is questioning the way Spanish authorities have been investigating a 2013 train crash that killed 80 people and injured 152 near Santiago de Compostela, in the northwestern region of Galicia.
A report released on Thursday by the EU Agency for Railways states that the worst railway accident in Spain in over four decades "has not been investigated in an independent manner."
The document questions the way Spain's Railway Accidents Investigation Commission (CIAF) conducted the investigation, and suggests the need for a new inquiry.
Considering the relevance of the accident, the agency considers that a new investigation "should be opened following the proper requisites of independence."
The European agency delivered the report to a group representing victims of the crash, in the presence of a representative from the regional party Galician Nationalist Bloc (BNG).
Ana Miranda of BNG, who has been fighting for months to bring this document to public attention, called the report "damning."
Although it was completed over 5 months ago, the European report did not emerge until after the June 26 national election. Victims had collected nearly 300,000 signatures on Change.org to demand that authorities release it.
Jesús Domínguez, the president of the victims' association and one of the passengers on the Alvia train that derailed on July 24, 2013, said that they will deliver the report to the judicial authorities in charge of the criminal inquiry, and that they will further demand the creation of an independent committee to analyze the facts.
The Brussels report says that the Spanish investigation focused on the train driver's human error while ignoring "essential questions regarding the origin of the accident."
The text insists on the fact that Spanish authorities focused on the derailment while failing to provide details about other issues that may have played a role in the crash. So far, prosecutors have only held the train driver, Francisco José Garzón, criminally responsible even though the original investigating judge placed 27 former managers and technicians at Adif, the rail track operator, under official investigation.
The European railway agency has offered Spain its own experts in the event that a new inquiry should be opened.
The European report contradicts the message that Ana Pastor, the public works minister, relayed to victims as to the independence of the state's investigative commission. EU investigators note that members of Adif, which manages railway infrastructure, and Renfe, the train operator, took part in the inquiry, in violation of European regulations on independence.
Now, victims of the crash want Pastor to resign. "She lied to us," said Domínguez.
Recommended Reading :
* The Train in Spain is mightier than the Plane
* Spain Train driver apologizes on anniversary of death