All eyes on Paramount Murcia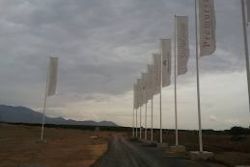 Websites do encounter technical difficulties from time to time. Likewise, websites do need to be taken offline for essential maintenance every now and then.
In the vast majority of instances such a thing would pass without comment or cause for concern.
However, over the course of the last few days the official website for Proyectos Emblemáticos Murcianos S.A. (PREMURSA) - the promoter and developer of the Paramount Murcia theme park project - has been inaccessible.
Maybe Tumbit is reading too much into this issue, but perhaps the lack of significant activity in previous months and years may be combined with this to suggest a winding down of operations ?
Watch this space.
Recommended Reading :
* Paramount Murcia investors call for compensation
* Final nail in the coffin lid for Paramount Murcia ?