EU states back deficit sanction procedure for Spain, Portugal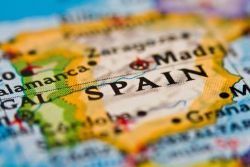 EU finance ministers endorsed on Tuesday a deficit sanction procedure for Spain and Portugal, paving the way for the EU executive to propose possible fines in the next 20 days.
The European Commission said last week that Madrid and Lisbon had not done enough to correct their excessive budget deficits last year and in 2014, beginning a formal procedure that may lead to sanctions, so far never applied.
In a regular meeting in Brussels, EU finance ministers backed the Commission's assessment, a joint statement said confirming a widely anticipated decision.
The two countries now risk fines of up to 0.2% of their GDP and the partial suspension of EU structural funds, but can submit requests to reduce or cancel the penalties in the next 10 days.
Spain's finance minister Luis de Guindos said he expected the Commission would propose only a symbolic "zero" fine and insisted that no new budget measures were needed as the breach of EU fiscal rules concerned past years.
Portugal's finance minister Mario Centeno also said he believed new measures were not needed.
However, Jeroen Dijsselbloem, the head of the Eurogroup of euro zone finance ministers, said a lenient stance by the Commission was more likely if Spain and Portugal took further action to reduce current and future deficits.
Spain is struggling to form a government after two indecisive elections in 6 months, and its caretaker government has little legal room to propose new measures to reduce this year's deficit. The Commission forecasts that will be 3.9% of GDP, above its guidance of a maximum 3.7% and still above the 3% limit set by EU rules.
Portugal will bring its deficit below 3% this year, but the Commission estimates it will still miss a fiscal target agreed with EU partners.
The Commission now has 20 days to propose fines and is likely to announce its decision on July 27, its last meeting before the summer break, EU officials said.
Brussels may propose that no fines are applied if Madrid and Lisbon can prove exceptional circumstances made them breach fiscal rules. EU states will then have to endorse the proposal.
"Certainly there will be a possibility within this procedure for the countries to put forward motivated requests to reduce potential sanctions or probably even bring them down to zero," said Valdis Dombrovskis, the EU commissioner responsible for the euro.
Several ministers underlined that the option of zero sanctions was on the table.
"Sanctions are clearly set out in the treaty, up to 0.2%. But 'up to' also means less than or zero," Austrian finance minister Hans Joerg Schelling said.
Recommended Reading :
* EU Commission begins deficit sanction procedure for Spain
* Spain says will escape EU deficit sanction