Spain's Socialists say will vote against PP re-election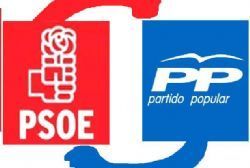 The leader of the Spanish Socialists Pedro Sanchez reiterated on Wednesday his party would not vote in favour of re-electing the acting conservative People's Party (PP), potentially extending a seven-month political deadlock.
"We will vote against (Mariano) Rajoy as a prime ministerial candidate," Sanchez said after a nearly hour-and-a-half meeting with the acting PM.
Sanchez ruled out that Spain would see a "grand coalition" of the right and the left, as has happened in other European countries, though said he would do anything to avoid forcing Spain into a third election.
Recommended Reading :
* Spain's Ciudadanos party suggests will not block Conservative Gov't
* PSOE attack Podemos for calling itself the new Social democracy